Preaching Christ For……..
2014 FALL GBC Preaching Conference
Hello Friends, family and visitors, we welcome you to enjoy our Fall preaching conference pictures, commentary and audio.
This years conference was an exceptional blessing to our Grace family. We prayed for His presence, power and voice in the proclamation of the Word of God and the gospel by it. And He met us in ways beyond our expectation Eph 3:20
We are humbled by His almighty Grace and goodness shown to His underserving people. We are the objects of an inexplicable mercy for which we owe our God and Savior eternal praise and glory.
This conference was ministered to by four men including our own Pastor Gistand and proved to be just the Word from God we needed to hear. The men who spoke were endowed with power each day to proclaim our glorious Saviors Gospel with clarity, boldness and power and the messages shed light on the glories and offices of Jesus Christ in a soul satisfying way. Enjoy the journey. We hope to see you next year!
Larry Austin is Pastor of Oakland City and He brought a powerful message on
Preaching Christ for…. The revelation of His glory. Enjoy the message
Pastor Cecil Parillon of Faith Baptist Church of the British Virgin Isles brought two powerful messages on
Preaching Christ for, Perfection and completion. Enjoy the Message
Pastor Jonathan Jon Baptist brought a message on Preaching Christ for assurance and
His second sermon was Preaching Christ for the purpose of valuing our Redemption Enjoy the messages
Jonathan Jon Baptist MP3 Saturday
Jonathan Jon Baptist MP3 Sunday
Pastor Gistand delivered a message on Preaching Christ for the purpose of winning. Enjoy the messages.
We also enjoyed a strong attendance each evening. Enjoy the pictures
Our Worship Team enjoyed an extra measure of grace to exalt Him in the Hymns and special singing.
Long view of the fellowship
The Pastors Lovely Wife and daughter Gloria, who had come down from College for Barbara's birthday.
Barbara turned 19 that day. Still as beautiful as the day they met. Yes God has smiled on the Pastor!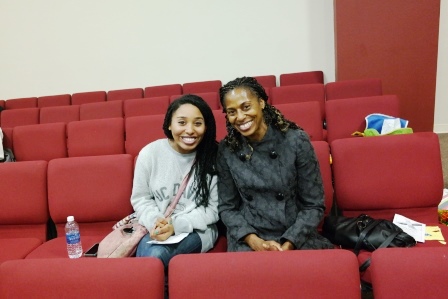 You can see the rest of our conference pictures by going to the facebook.